Zoeller® Sump Pump Systems
Providing quality Zoeller® sump pumps in Ontario since 1939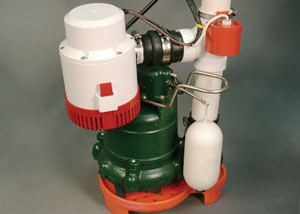 Not all sump pump systems are created equal! With hundreds of sump pumps available, we stand by the quality and reliability of Zoeller® Sump Pumps.
Sump pumps have come a long way in recent years, and they are better and more reliable than ever. However, old habits die hard, and there are still many old and outdated sump pump designs on the marketplace.
Plastic sump pumps can easily overheat, and even a simple design choice such as a screen on the pump intake can mean the difference between a clogged system and one that you can count on for years to come.
Finding a model that "has it all" (including power, reliability, and resistance to clogging) can be easier said than done!
We offer free Zoeller® sump pump estimates in the Ontario area, including Ottawa, Nepean, Orleans and nearby. Each quote includes an on-site inspection, written quote, and a copy of our 88-page waterproofing book. Contact us by phone or online today to get started!
Why We Stand By Zoeller® Sump Pumps
Why do we stand by Zoeller®? Because our full-time Research & Development department, along with hundreds of Basement Systems® waterproofers worldwide, have carefully examined and tested sump pump models of all types. Our research, combined with more than 20 years and thousands of sump pump installations, have all pointed to one fact: Zoeller® provides the best pumps on the market.
Basement Systems® dealers have been using Zoeller® pumps all over the world for more than 20 years, and they've proven their value time and again over the decades. At The Foundation Guys Inc., we also believe Zoeller® Sump Pumps are the best way to keep your basement dry all the time for the following reasons:
---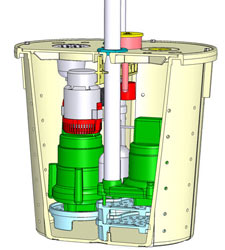 Powerful Pumping Ability
At The Foundation Guys Inc., we install the powerful Zoeller® M53 and M98 models. Combined with our battery backup system, these pumps make for a powerhouse sump pump system that is up to the job of keeping your basement dry. Other models are available for unique circumstances.
Zoeller® Pump Features:
The Zoeller® M53 pumps up to 2,220 gallons per hour at an 8' head.
The Zoeller® M98 pumps up to 3,900 gallons per hour at an 8' head.
("Head" is how high the pump must send the water before it exits the home. A lower "head" means more gallons per hour, while a higher "head" will slightly reduce the gph.)
---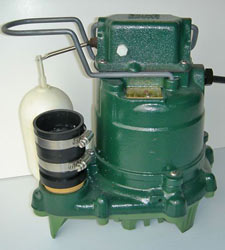 Heat-Dispersing, Engineered Build
Our primary and secondary sump pump systems are designed with cast-iron Zoeller® Sump Pumps. Unlike plastic sump pumps that often overheat and fail, cast-iron pumps transfer heat from the engine casing to the water outside. This naturally cools the sump pump motor during operation.
Our pumps are designed with the cast iron around the center of the pump, instead of only at the base. This, combined with the distinctive single-casing design, allows for a maximum in heat dispersion and pump life.
Zoeller® Pump Features:
Single engine casing design for maximum heat transfer
Cast-iron core design for cooler operation
---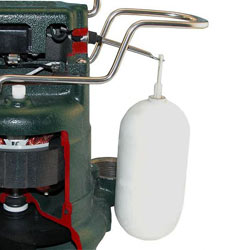 Reliable Float Switch
One of the most common weaknesses of sump pump systems is the float switch that turns on when the water rises. If this switch jams in an "off" or "on" position, it can lead to sump failure or sump pump burnout. The Zoeller® sump pump switch includes several design elements that help prevent jamming.
Zoeller® Pump Features:
Locked-in sump pump arm that is not "free-floating"
Solid, non-hollow plastic design prevents floating switch from filling with water.
Mounted sump pump design keeps pump from "wandering" due to vibration and jamming the sump switch against the edge of the sump liner.
---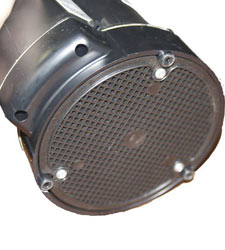 Clog-Resistant Pump Intake
Sump pump systems will occasionally gather dirt, debris, and other materials within the sump pump liner. Over time, sump pumps with screened intake valves will clog. Some unscreened models will clog with dirt and debris, shutting the system down and leading to a flood. Zoeller® provides sump pump systems that address both these critical issues.
Zoeller® Pump Features:
No-screen design helps prevent system clogging on inlet to pump
The powerful Zoeller® impeller can handle 1/2" solids with ease
Installed in sump pit on a stand that keeps it away from silt and sediment settling on bottom of liner.
---
Reputable & Built To Last
Zoeller® is a family owned and operated company that first opened its doors as a sump pump manufacturer in 1939. Today, Zoeller® is the oldest and one of the largest independently owned pump manufacturers in the United States.
Zoeller® maintains the highest standards for quality in sump pump design, using stainless steel parts that will not corrode, rot, or rust. Zoeller® conducts factory tests of each hermetically-sealed sump pump motor while 100% submerged in water.
Zoeller® provides their sump pump systems throughout the United States, Canada, Mexico, the United Kingdom, and throughout the world. They are the best sump pump company in the world, and the only one for Basement Systems®...and for you! Basement Systems®, Inc. is an authorized Zoeller® Pump distributor.
---
Contact us for a free estimate!
The Foundation Guys Inc. services Gloucester, Kanata, Smiths Falls, Richmond, Vanier, Renfrew, Carleton Place and many nearby areas in Ontario.
Looking for a price? Get a no cost, no obligation free estimate.