Gutter Installation in Greater Ottawa
Gutter replacement & installation company serving Nepean & nearby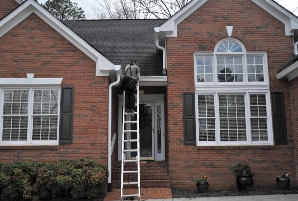 Aluminum gutters never clog or pull away from your home!
Gutters protect your property from flooding and water damage. Faulty, ineffective gutters contribute to various problems for homeowners, including foundation, basement, and roof damage.
Common gutter problems include:
Gutter clogging from pine needles, leaves, & other debris
Basement & foundation flooding due to pooling water
Water damage on your roof & siding
Interior water damage on your ceilings & walls
Broken gutters due to excessive clogging
Erosion & other lawn damage
Insect & pest infestation
If your gutters clog regularly, consider gutter replacement now to avoid costly repairs in the future. The Foundation Guys Inc. installs seamless gutters, gutter guards, and replacement gutter systems that are guaranteed to never clog or pull away from your home. Get in touch today to schedule your free estimate throughout Nepean, Ottawa, Orleans, and nearby!
Seamless aluminum gutters in Ontario
The Foundation Guys Inc. proudly offers Gutter Shutter gutter replacements in Ontario. This is a proven, patented gutter system offering a broad range of benefits to your home and roof. Gutter Shutter is made of premium-grade aluminum that looks great and lasts for decades.
Gutter Shutter Features:
Gutter Shutter is guaranteed to never clog, sag, or pull away from your home
Gutter Shutter eliminates the need for homeowners to climb dangerous ladders to clean out their gutters
The Gutter Shutter system is constructed with premium-grade aluminum that won't flex under heavy loads, wide mouth outlets, double-the-size downspouts, and more effective gutter extensions
Design includes exclusive "high-back" gutter trough to prevent water from entering behind your gutters
Gutter Shutter is available in a variety of colors to complement your home
Free gutters & gutter guards estimate in Ottawa
Schedule a free estimate for gutter and downspout installation with The Foundation Guys Inc. in Nepean, Ottawa, and nearby. We offer quality aluminum gutter installation, gutter guards, and more! Call us at 1-844-385-8867 or complete our online booking form to schedule your free gutter estimate in Ottawa, Nepean, Orleans, Gloucester, Kanata, Smiths Falls, Richmond, Vanier, Renfrew, Carleton Place, and nearby in Ontario.
Looking for a price? Get a no cost, no obligation free estimate.