A guide to Crawlspace Insulation: the dos, the don'ts, and the myths.
If a crawlspace ceiling is insulated, it is usually with the purpose of keeping the crawlspace and floor above warm possibly due to open vents. So the first solution, if there are open vents, is to seal them. Another thing to keep in mind is that the most commonly used insulation for these spaces is fiberglass insulation. Fiberglass insulation only works in a closed cavity, so when it's positioned between the joists of a vented crawlspace with the paper or foil side up and unfaced side down, it's not doing much.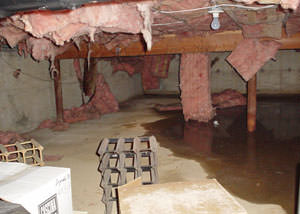 Not only that, but paper-faced insulation is mold's best buddy. It sticks to it and spreads even more than it does with wood.
In comparison, foil-faced insulation is meant to be a barrier, the foil-side is faced towards the heated side but the catch is that there needs to be at least ½ inch of air space in front of the foil radiant barriers for them to reflect the heat. Unfortunately, usually the foil insulation is not installed in this way – and is instead jammed up against the floor sheathing rendering it pretty much useless. But then, even if it was installed properly with the air space, it would create a thermal bypass where air can flow on both sides of the insulation allowing air to pass right through the insulation – also rendering it useless. Also whenever it gets damp, it becomes useless.
On top of that you probably have mold –yay!
That's why it's better to insulate the ground and walls of your crawlspace after sealing the vents. It makes it a very friendly place for ducts.
For more information about crawl space insulation give the Foundation Guys a call!