"Raindrops keep falling on my head
But that doesn't mean my eyes will soon be turning red
Crying's not for me
'Cause I'm never gonna stop the rain by complaining
Because I'm free
Nothing's worrying me…"
Are the wise words of B. J Thomas, however when it comes to feeling all the raindrops pouring on your head as soon as you step out of your home due to poorly maintained Gutters…there are some cause for complaints. That's why Raindrop Pro Gutter Guard was created. Since 2000, Raindrop has proudly upheld a very impressive track record under a vast array of conditions across the USA without any complaints in 20 years!
Now, why is that?
Well, for starters the Raindrop Pro Gutter Guard has a HUGE water capacity thanks to its patented arched rib and grid configuration that is designed to handle any storm. It also is unaffected by pollen, pine tar, airborn dirt or roof granules – making it impossible to clog when properly installed. This means the Raindrop Pro Gutter basically pays for itself in the long haul, because it eliminates the dangers and costs of needing to clean out or replace your gutters. It's so resilient that it can even withstand the toughest of Canadian snowstorms.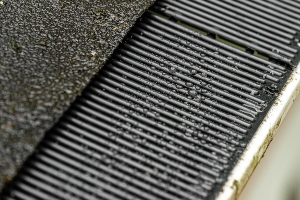 So, if you don't want to have to worry about raindrops falling on your head outside your home, please call the Foundation Guys at 1-613-680-7979.