Around summer time, earth dries up due to heat and humidity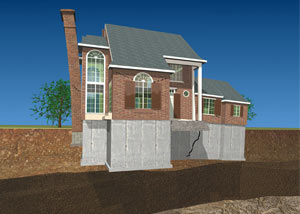 which can lead to the foundation of your home cracking and shifting.
To try to prevent this from becoming a serious structural problem, it's important to understand how to spot the early signs of structural issues and your options.
Some signs you would want to look out for include:
Stair-step cracks in brick or concrete block foundation walls
Leaning, tilting chimneys
Cracks around doors and windows
Jamming, sticking doors and windows
Cracks in a concrete slab floor
Cracks in drywall
From there, it's highly reccomended by the Foundation Guys that the foundation settlement issues are fixed by installing steel foundation piers. These piers will extend beneath the foundation, contacting strong supporting soils that will permanently stabilize your structure.
There are two versions of this that can be done:
Foundation push piers, which are are straight, steel piers that attach to your foundation and extend far below the structure to strong supporting soils. Or, Foundation slab piers which share a similar idea but they extend from stable soils deep below the structure to support brackets directly in contact with the underside of the slab.
Foundation Push Pieres Foundation Slab Piers
For more information about this service please call us at 1-844-385-8867.